Timely, Relevant Content + Useful Teaching Tools All in One Place
Your daily learning platform for teaching, creating, and growing professionally.
Log In, Find, and Save Content
Whether through SSO, LMS, or QR Code, logging in is a breeze. You'll see personal recommendations, popular picks, and your bookmarked channels.
Use the keyword search to dive right into our treasury of more than 200,000 rich content resources that spans all grades and subjects. Filter by grade, media type, language, literacy and accessibility supports, and more.
Each month we add hundreds of new resources from trusted organizations and content partners that keep students engaged with the world around them.
Curate resources in your QuickList while you search and plan out your lessons. Or, add resources to My Content to organize what you need year to year.
Assign and Share Content with Students
Once you find a resource, assign it to students, and add context + instructions to guide them along. Even better, incorporate rich media into your daily lessons.
From the Video Player page, you can:
Create a video quiz.
Assign a self-paced activity.
Jump to a particular segment.
Find related instructional supports.
Our seamless integrations make it easy to search for and share content resources through your everyday management systems and tools.
Save Time with Ready-To-Use Activities
1500+ ready-to-use activities combine our high-quality content with SOS Instructional Strategies, giving you that magic formula for engaging lessons.
Use them for quick turnkey assignments or customize in Studio. Find lesson starters, background builders, writing prompts, and more throughout our content channels and in dedicated collections.
Embedded literacy and language supports give all learners an opportunity to have their lightbulb moment!
Check In with Students Daily Using Quiz
Our interactive Quiz gives you three ways to promote active learning and track progress in real-time.
Video Quiz: Select any video and embed questions right into the viewing timeline.
Standard Quiz: Use a range of question formats, from polling to open-ended.
Ask Live Quiz: Ask questions live and share responses to spark class discussions and class.
Find out how your students did with the Results Dashboard. Quiz results display in real-time so you can help students every step of the way.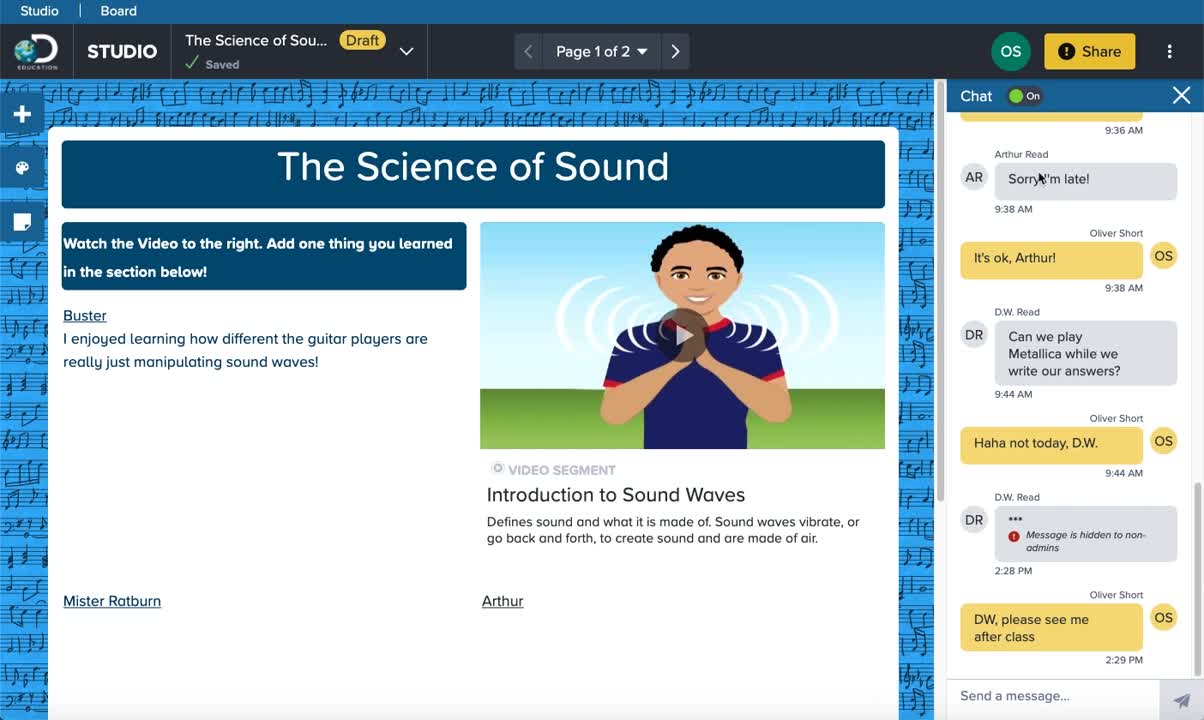 Create Activities and Present with Studio
Studio serves as your creative outlet for those learning activities you've always wanted to design. Start with an Activity Template based on SOS Instructional Strategies.
If you've got a creative itch, design your own Board or Slideshow from scratch and embed quiz questions. Students can also design their own!
Whether made by you or your students, everyone in the class can collaborate in real-time right within Studio—no matter where they are.
Support All Students with:
Literacy Tools
Immersive Reader
Lexile scoring
Differentiated reading levels
Accessibility Tools
Text to speech
Closed captioning
Video transcripts
Enhanced text features like Page Ruler
English Language Learner (ELL) Tools
ELL Center
Native language support
Translation options
Bilingual content
Content that Supports Cultural Diversity and Authenticity
African American Experiences
Celebrating Black History
Celebrating Hispanic Heritage
Hidden Figuras
Celebrating Native American Heritage
Celebrating Asian American/Pacific Islander Heritage
Women in History
Content that Supports Social-Emotional Learning (SEL)
SEL Center
Discover Your Happy
Inner Explorer
Everyday Speech
Soar with Wings
Child Mind Institute
Wellness
Content that Supports Equity
Dissent, Equity, and Inspiring Change
Learning for Justice
Equity Talks
Built-in Educator Supports include getting started tutorials, real-life examples of DE in action, interactive courses, and ready-to-use toolkits for leaders.
A wealth of on-demand professional learning opportunities, including hourly packages that can be personalized to meet the needs of the district, school, and individual teachers' areas of growth.
Connect with educators from around the world through the Discovery Educator Network (DEN) Community. You'll find inspiration, timely recommendations, and best practices.
Core and supplemental curriculum resources give you even more reason to use Discovery Education every day.
Interested in Bringing Discovery Education to Your School?